Inspiring Visit by Ms. Sarah Coomb, HALO Trust Representative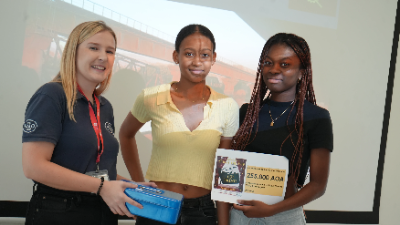 In October, our school had the distinct privilege of hosting Ms. Sarah Coomb, a representative for HALO Trust, as our guest speaker. Ms. Coomb shared valuable insights into HALO Trust's vital work within Angolan communities, with a particular focus on minefield education and the perilous nature of these areas. HALO Trust is committed to mine clearance around Angola, ensuring the safety of local communities.
One of the standout aspects of HALO Trust's work is their dedication to advancing women in demining, a cause that aligns perfectly with the organization's broader mission. The session Ms. Coomb served as a pivotal element of our Y10 students' Service as Action program, offering them a deeper understanding of Angola's mining landscape and the associated challenges.
The culmination of the session was marked by a heartwarming gesture from our Y11 representatives, Cassia and Ingride, who were once part of the Y10. They presented a donation check of 255,000 Kzs, which resulted from their highly successful talent show fundraiser. This generous contribution vividly demonstrated our support for HALO Trust's invaluable work.
Ms. Coomb's visit not only educated our students about the critical issues surrounding minefields in Angola but also inspired them to take action. It was a remarkable day that showcased the power of knowledge and the impact of determined individuals and organizations like HALO Trust in making the world a safer place.